Starus Recovery announces the release of Starus Office Recovery, a comprehensive data recovery tool to restore office document files that go missing. Employing a highly sophisticated data recovery engine for Adobe PDF files, documents and spreadsheets saved by Microsoft Office and OpenOffice applications, Starus Office Recovery delivers the safest recovery experience and best-in-class performance. An automatic integrity check performed after every disk scan session ensures that only valid and 100% recoverable document make it into the list of recoverable files.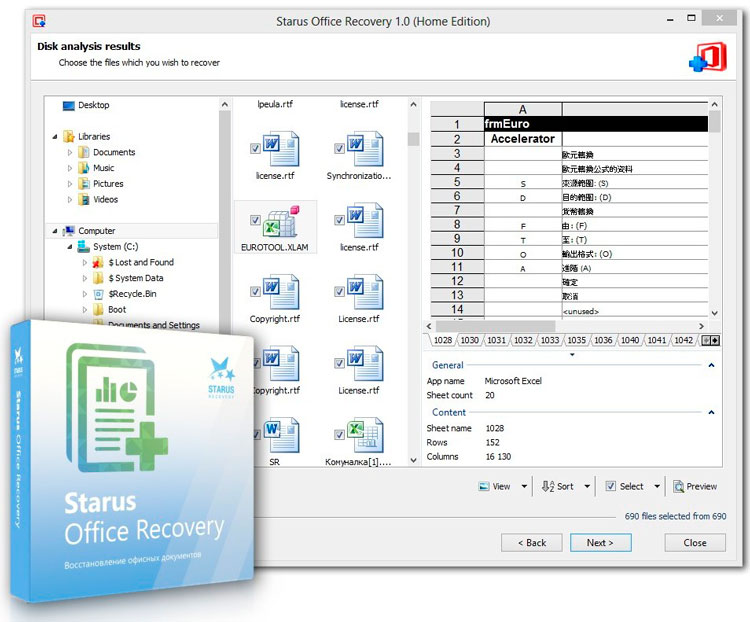 About Starus Office Recovery
Starus Office Recovery is designed to recover Microsoft Office and OpenOffice documents as well as Adobe PDF files that go missing. The tool can quickly undelete documents deleted with Shift+Del or removed from the Recycle Bin or recover document files from damaged, formatted, repartitioned and plain unreadable storage media.
Starus Office Recovery supports all types of storage media including desktop and laptop hard drives, external storage devices, memory cards and USB pen drives. The tool supports all versions and revisions of FAT and NTFS file systems including the latest NTFS5. Speaking of NTFS, Starus Office Recovery can recover NTFS-compressed documents.
Starus Office Recovery shares its data recovery engine with the company's flagship data recovery tool, Starus Partition Recovery. This highly advanced recovery engine can scan the entire surface of the disk in order to locate supported documents by their characteristic signatures. Content-aware analysis helps recover documents from disks missing the file systems including formatted, repartitioned, corrupted and inaccessible storage devices.
Built-in integrity check insures that only those documents that are successfully validated can make it into the list of recoverable files. This feature alone may save hours of work to data recovery specialists and users having a lot of documents to recover. A built-in viewer is available to provide instant pre-recovery preview. The viewer is completely self-contained, and does not require Microsoft Office, Open Office or Adobe Acrobat Reader to be installed.
Pricing and Availability
Starus Office Recovery 1.0 is immediately available. Home, Office and Commercial editions are available. Pricing starts from $99.95. The free evaluation version is available here:

.

Recover documents that go missing! Recovers files in Microsoft Office, OpenOffice and others

The evaluation version can display full-size previews of recoverable documents, but will not save recoverable files.

For a limited time, all programs Starus Recovery is available at a reduced price. Customers registering Starus Office Recovery will receive a 20% discount off the regular price. In order to receive the discount, customers will have to enter "20% DISCOUNT" into the "coupon code" field on the order form.