Sometimes the file system of our drives may be damaged for some reason and become unreadable in the Windows operating system and is represented in RAW format. Windows will not be able to open the contents of the device and will prompt you to format the SD card. Otherwise, if you do not confirm this offer, the system will notify you of an error every time you try to view a file.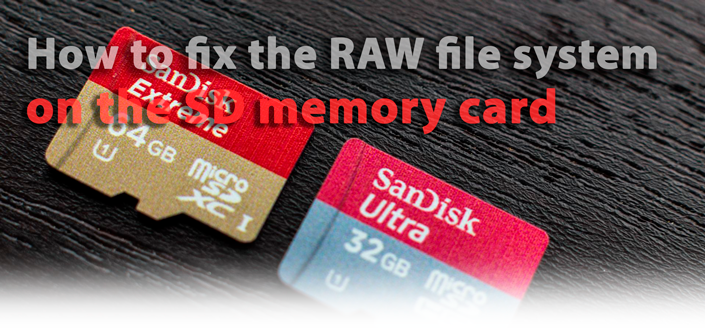 Many users may panic if they encounter such a problem, but do not get upset ahead of time. Below you will find a simple instruction, following which, you will quickly recover not only your drive, but all the valuable data. These methods can be useful for both the SD card, and for any other drive.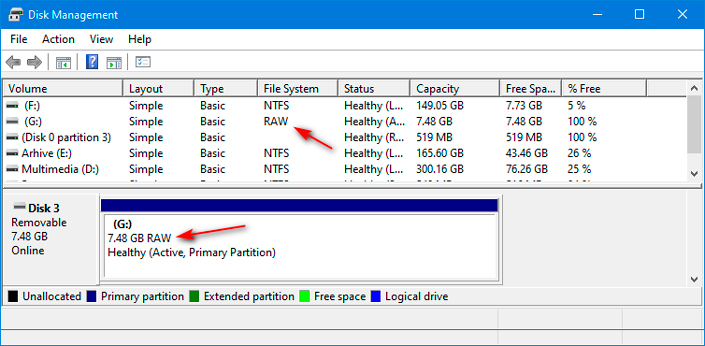 Using CMD to fix the RAW file system without formatting
The classic way to restore a drive in case of any logical damage, including RAW file system format, is to fix a problem with the chkdsk utility using the cmd command line. Being a free Windows tool for repairing disk partitions, chkdsk becomes the first way to solve a problem with the failed device.
Open a command prompt:
Start > Run > cmd.exe ( you can call window using Win + R key combination)


In the command prompt, type
chkdsk /F G:
(Assuming your drive is labeled with G letter, respectively, type chkdsk /F G:)

Upon completion of the two steps above, CMD will correct the error on your SD-card, and with some luck, retaining all the available data on it. Unfortunately, periodically during the execution of the first recovery method, you may receive an error message "RAW file system" or "CHKDSK is not available for RAW drives". This article describes the way of fixing such a mistake.
If everything didn't go as smoothly as you wanted, try a different method using the Starus Partition Recovery software.
Data recovery and preparing the SD card for formatting
Another way to recover data and drive file system is to use third-party software. Thanks to the powerful built-in data recovery function and user-friendly, intuitive interface, Starus Partition Recovery will be an excellent choice for such a case.
Top of the line product to repair broken partitions and recover missing information
The application will help you to efficiently recover data from a hard drive, USB-drive, SD-card and any media just in two clicks.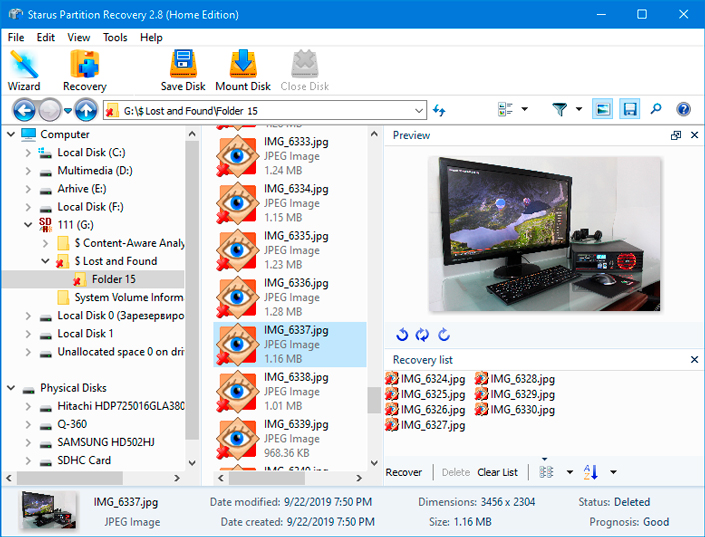 Use the following instruction to recover data:
Connect a memory card with a RAW file system error to your computer and start Partition Recovery. Left-click on the disk you want to analyze, and select the appropriate scanning method. You can conduct a quick analysis for a brief review of your data and a complete analysis so that the application could examine each sector in detail. The second method will require more time.


Upon completion of the scan, select all the data needed for recovery, right-click on the window and select Restore button.


You will be offered several methods to save information, select the most appropriate.

Download and try out the program. Fixing the RAW file system error is completely free. All features, including previewing recovered files, are available in a trial version. The preview window allows you to make sure that a particular file is not damaged or overwritten and can be fully restored. To save the recovered files, you must purchase a license key and register the program.