Data Recovery for Everyone
Starus File Recovery is easy to use for the novices while advanced enough to interest data recovery professionals.
Fully Guided Wizards
Featuring a fully guided, step-by-step deleted file recovery wizard, Starus File Recovery helps selecting the right mode and configuring the settings in fully visual mode. The wizard guides users through in few easy steps.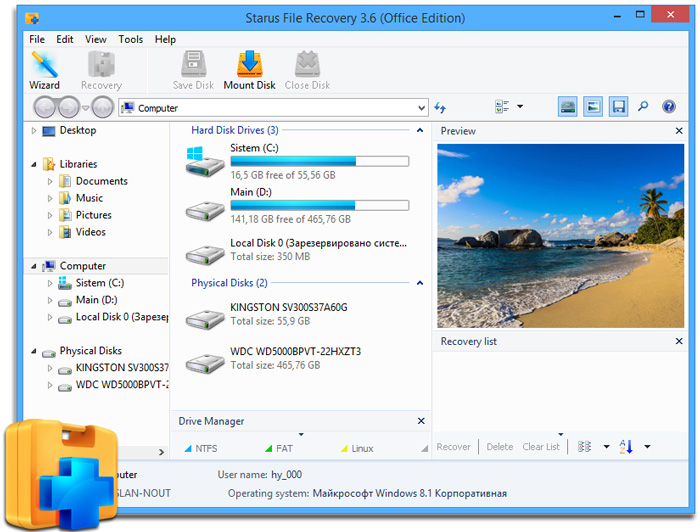 Look and Feel of Windows Explorer
Starus File Recovery looks and feels just like Windows Explorer. Anyone familiar with how Windows handles files and folders will feel immediately at home with Starus File Recovery. Imagine browsing your disk in a familiar way and seeing all the deleted files and folders in real time.
Pre-Recovery Preview
A fully visual pre-recovery preview is supported for hundreds of file formats. All popular image formats, music, most types of videos, office documents, spreadsheets and presentations, ZIP and RAR archives, emails and attachments can be previewed before undeleting.
Professional Features
Some features included in Starus File Recovery can interest professional computer users and data recovery specialists. The ability to create a full snapshot of a disk being recovered and committing any changes onto that virtual disk image is the way the professionals work. Saving files onto a CD/DVD disc or sending them over an FTP connection comes handy when recovering lots of information.
System Compatibility
Starus File Recovery works in all versions of Windows up to the latest Windows 7 and Windows 2008 Server, and supports all Windows file systems including FAT, FAT32, NTFS, and NTFS5. The latest version can recover files compressed with corresponding NTFS attributes.
Features:
Supported file systems: FAT, FAT32, NTFS, NTFS5
Supported storage media: hard disks, SSD drives, memory cards, USB flash memory
Near-instant recovery or recently deleted files
Slow recovery mode available to handle tough jobs
Recovers files and folders from damaged, inaccessible, repartitioned disks
Works in Windows 7 as well as all older versions of Windows
Fully guided, step-by-step deleted file recovery wizard
Fully visual pre-recovery preview for hundreds of file types
Explorer-like user interfaces can browse deleted files and folders just like Windows Explorer
NTFS-compressed file recovery
Can make full disk snapshots and recover files from virtual disk images for even greater safety
Supports FTP upload
Can burn CD or DVD discs or store recovered files as ISO images
Supported Storage Media
Starus File Recovery supports all types of magnetic and solid-state storage media, including hard drives, USB drives, memory cards or all types, as well as SSD drives. Certain MP3 players and digital cameras are supported directly if connected to a PC with a USB cord.