This article shows two effective ways to recover data deleted from the recycle bin!
Recycle bin – is one of the important tools of the Windows operating system, intended primarily for temporary storage of deleted files. This convenient principle of operation made it well known element of the graphical interface for every user. Placing unnecessary files into the recycle bin with the possibility of its further recovery looks much more favorable than the instant and permanent deletion.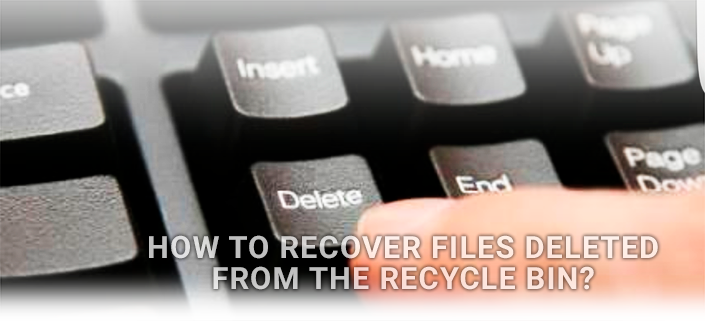 There are two types of document deletion:
DELETE button. "Erases" the file(s) you specify, thereby placing it into the basket for further storage and complete deletion if necessary.
SHIFT + DELETE key shortcut. Deletes the file system information and file location, but at first glance it looks like a permanent loss of a document. Nevertheless, nothing disappears without a trace – the erased data is still stored on the device, even though the path to it has been "forgotten".
Note:
It is strongly advised not to install new large applications on your computer until you complete the recovery process. Such actions can result in overwriting of "deleted" files and further impossibility to work with them.
If you accidentally delete an important document and you are afraid that you will not be able to access it anymore – do not panic! Any data can be recovered with minimal effort and almost no time costs.
---
Contents:
---
How to recover files deleted from the recycle bin?
The first method is probably the easiest and most familiar. You just need to open the Recycle Bin window, right-click on the desired file and press the Restore button. Let's take a closer look:
1. Open the Recycle Bin.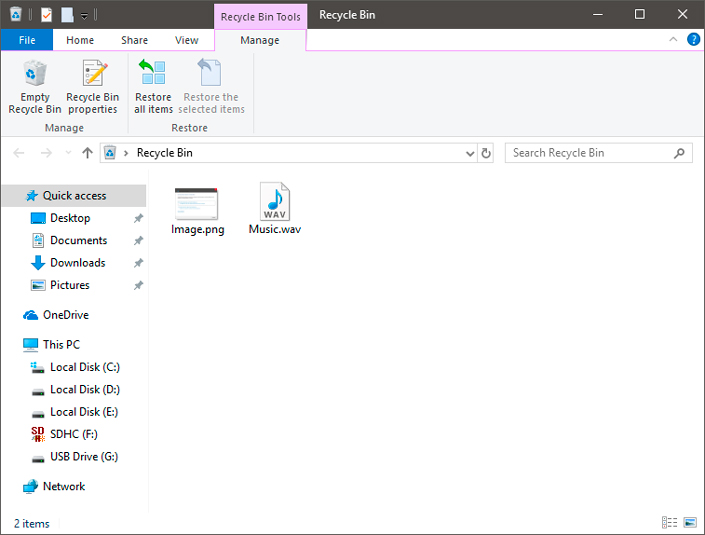 2. Select the desired file or select several at once.
3. Right-click the document.
4. Now press the Restore button.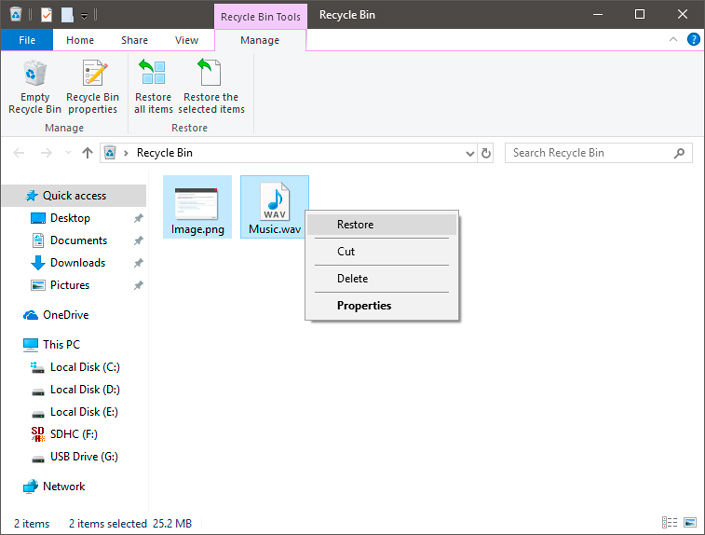 Quick fix: Missed the recycle bin. What to do?
1. Right-click on the empty space of the desktop.
2. Open the Personalization option.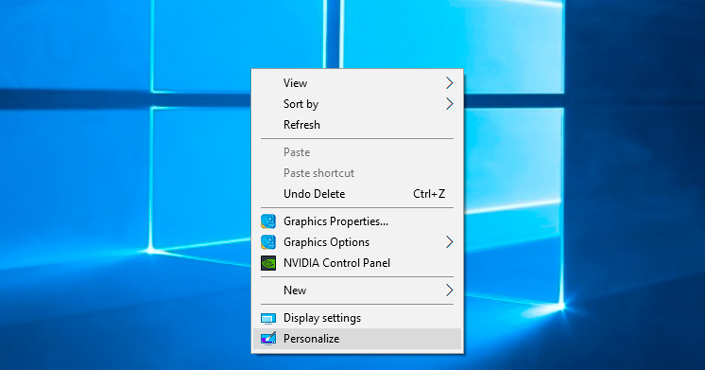 3. Go to Themes section.
4. Scroll down the page and open Desktop icons settings.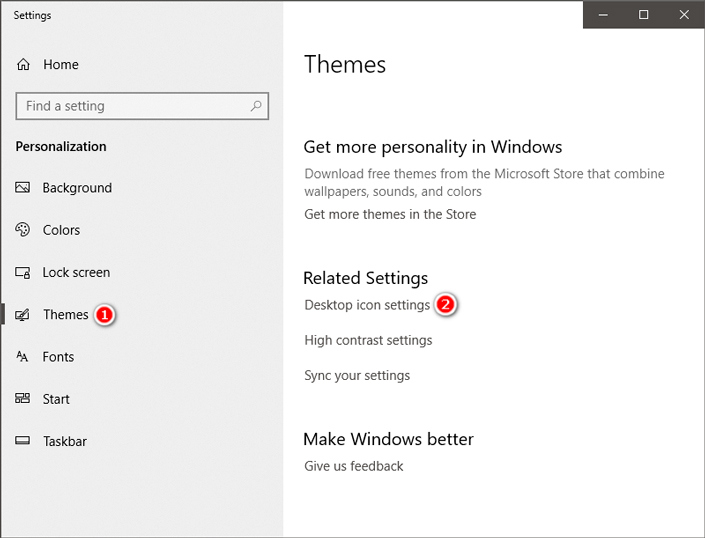 5. Check the Recycle Bin box.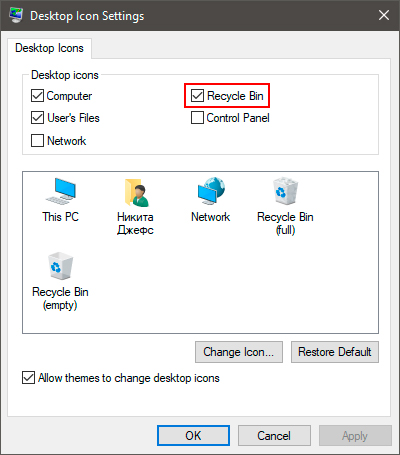 How to recover permanently deleted files?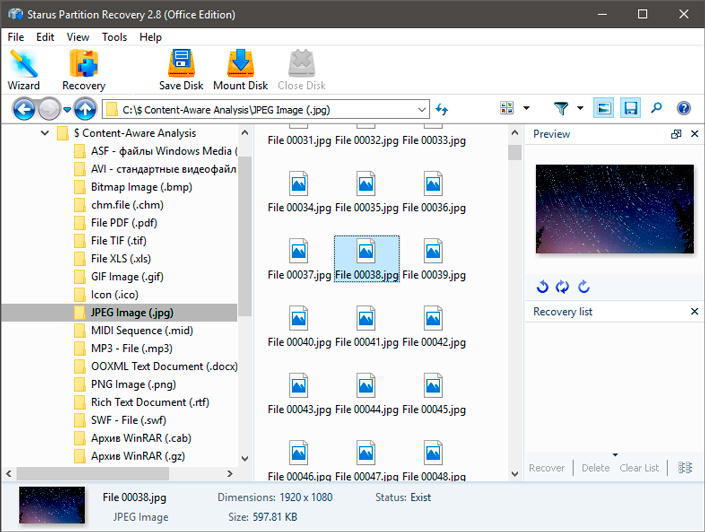 Many factors may result in loss of important documents:
Computer infected with malware.
Voltage drop.
Hardware damage.
Manufacturing defects.
Unintentional deletion (for example, by pressing Shift + Delete).
Nevertheless, it is important to remember the following – regardless of the reasons of the failure, any deleted file can be restored. The whole concept is based on the basics of the file system, which is similar to a library that holds a huge number of all kinds of books.
Each book (document) is located on a certain shelf and, when you access it, the file system finds the necessary data and brings it to you. When removing some document, you erase nothing just path itself. That is why no file ever disappears without a trace.
We recommend not to forget the note we left in the first section: do not download large amount of information on a PC strictly until you complete the restoration of the necessary files. Otherwise, there is a big risk of permanent data loss due to their overwriting.
Unfortunately, Windows did not provide built-in specialized software that can solve this issue, so the only effective solution is to use third-party software.
Starus Partition Recovery — is an application, that is able to effectively recover a files of any format, and a convenient and intuitive interface will help you to avoid wasting time on studying boring tutorials.
The program has effective tools and fast and deep scanning functions. These tools will help you thoroughly examine each individual sector of the hard drive and recover even large files bit by bit, that previously seemed to be irretrievably lost.
Another useful feature of Starus Partition Recovery is signature search. Regardless of the type of scan you choose, the application will restore any document even in harsh conditions when the file system is completely destroyed, since it works exclusively with files formats.
We hope the article was useful and helped you to find answers for your questions.
---
Similar Data Recovery Tips Picked Just for You:
---
Similar Data Recovery Tips Picked Just for You:
Date: