It is not a secret for anyone that at the moment of reinstalling the operating system a full formatting of all the storage media installed on the computer is performed. Of course, this process completes entirely under control and only those HDD partitions that the user will personally select are cleared. However, sometimes you can be careless and accidentally format not the disk volume, but the entire physical media.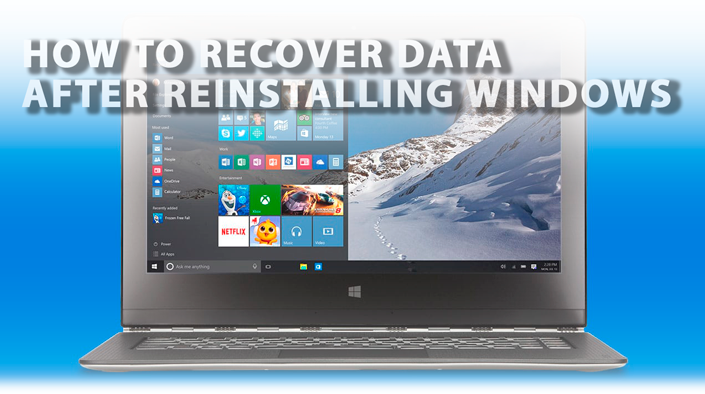 Unfortunately, despite all the advantages of the process, formatting can lead to very unpleasant consequences – the complete loss of personal data. These can be games, favorite music, movies, and even valuable work documents, the disappearance of which could jeopardize an entire data medium.
Is it possible to correct the situation? The answer is – yes! Regardless of the type of the deleted data, documents are always recoverable using information that we will share with you now.
Why and where did the information from the logical drives disappear
Before you begin to restore your personal data, you need to answer a few questions that we will discuss below.
What is formatting?
Formatting is a process that directly interacts with the disk space and the PC file system, creating the following possibilities for the user:
Regular formatting.
Low level formatting.
Partitioning a hard drive into logical partitions.
Before starting to perform its main task (clearing disk space), this process starts an in-depth analysis of the medium for errors, which allows it to easily recover sectors with internal logical errors.
Another undoubted advantage of formatting is the ability to remove all malicious applications, including even complex viruses that block the operation of the operating system.
It is important to remember! Frequent formatting leads to rapid wear of the drive, regardless of its type (HDD or SSD), so use it only in case of real need.
This information brings us to such a function as the "file system", which is responsible for all documents stored on the drive. It is a kind of a library in which countless interesting books have been kept. Whenever you open a movie or launch a game, you create a task for the system to find it and display it on the screen.
How does formatting affect this mechanism?
Formatting simply destroys all the bookshelves of this library, turning the library into ruins. Such data is subject to recovery and the risk of their total loss is close to zero if you have not installed any new applications. By doing the full formatting, you not only delete the existing documents, but also overwrite them, which, unfortunately, leaves no chance for "reanimation" of the data.
For this reason we strongly advise avoid completing full formatting before important documents are moved to a safe place.
System and non-system partitions. What is it?
A system partition is a section of disk space that Windows allocates strictly for its personal needs and, therefore, produces deep formatting, which excludes any possibility of recovering deleted information. Usually this is the C: drive.
Non-system partition – a portion of the disk space defined by the user for further storage of personal information. The operating system will in no way format it without your personal consent. If you have formatted this section, all files will be recoverable.
In summary, you can only restore data from a non-system partition, since it is not overwritten by new information that is newly created by your operating system.
How to recover deleted data?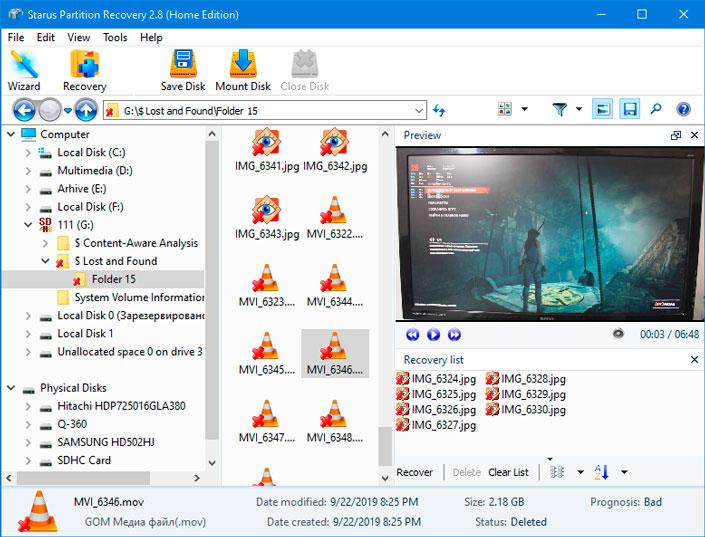 Unfortunately, Microsoft has not provided its own software, which would be specialized in the recovery of erased information. Perhaps this decision is caused by the desire for maximum user security, or the OS developers have other, personal goals. Regardless of the possible reasons, there is only one way to "reanimate the data", and this method is third-party software.
There is a whole line of programs of this orientation, however, few of them are suitable for home use due to an inconvenient interface or a complicated and incomprehensible algorithm of work.
Top of the line product to repair broken partitions and recover missing information
Starus Partition Recovery includes all the best that data recovery software can provide! What are the benefits of this application?
Compatible with all versions of the Windows operating system.
Convenient, intuitive Russian-language interface.
The presence of step-by-step instructions that will guide you through each stage of working with the program.
The presence of a convenient preview window, which allows you to study in advance not only graphic, but also textual material. This avoids the need to recover unnecessary data.
The ability to export to all possible media.
How to recover data using Starus Partition Recovery?
1. Run the application.
2. Select the logical partition or physical drive to work with.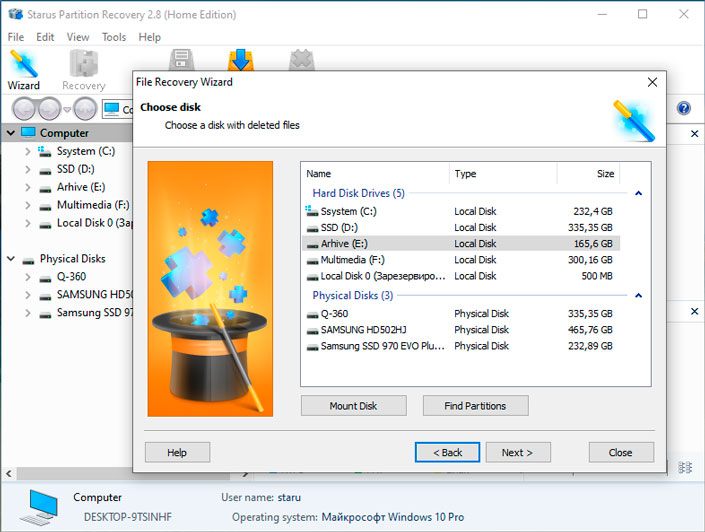 3. Select the desired type of analysis. We recommend using the default Full Analysis. This mode will allow you to conduct a low-level scan of each individual drive sector with the ability to find even the oldest files that you may have already forgotten about.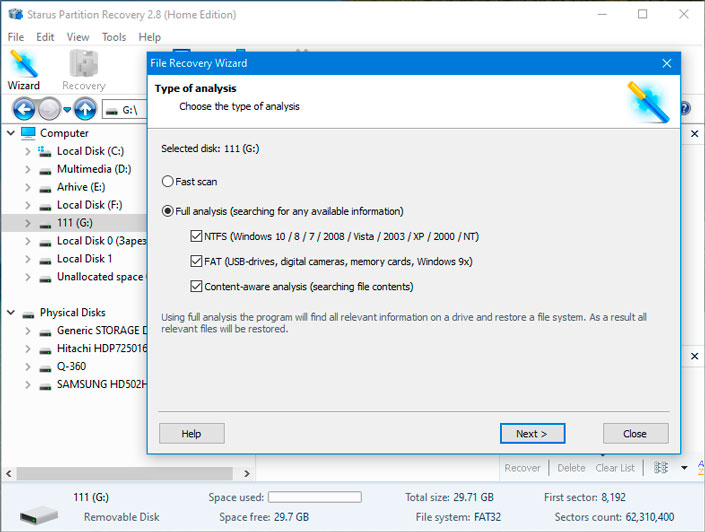 4. Wait for the scan to complete.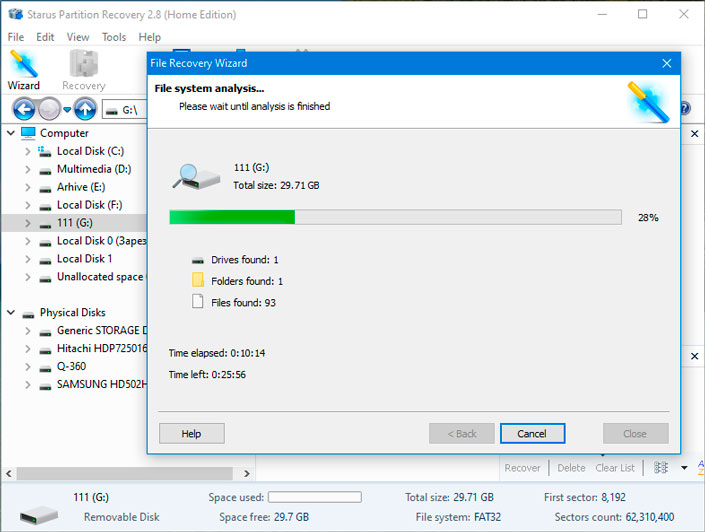 5. Select the files to be restored, right-click on any of them and press the Restore button.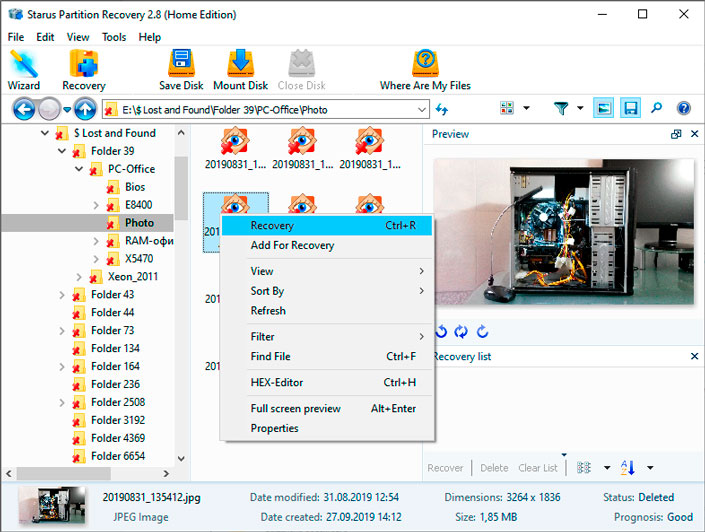 6. Choose a convenient way to export data.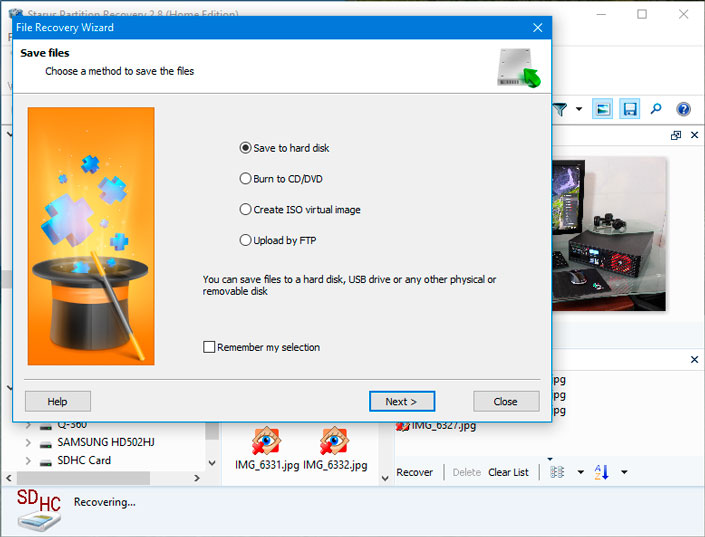 It is done!
Now, as it seemed earlier, the lost files are with you again and are ready for further work!
Note!
Under any circumstances do not export data to the media from which you are recovering. This action may lead to the process of rewriting information, which, subsequently, will exclude any possibility of further recovery.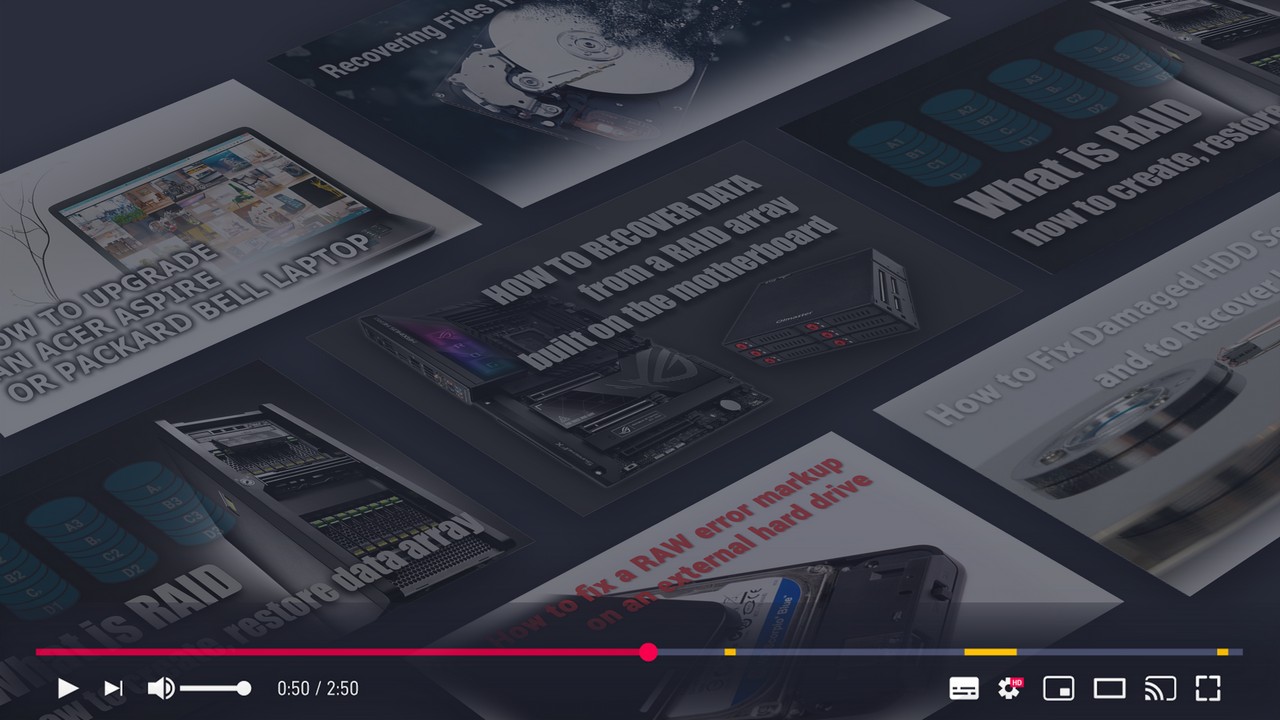 We hope this article was useful for you and helped to recover the data after reinstalling Windows!