Starus Web Detective offers clean looks and intuitive user experience, and does not require a steep learning curve. The tool is equally perfect for continuous use or an occasional one-off job.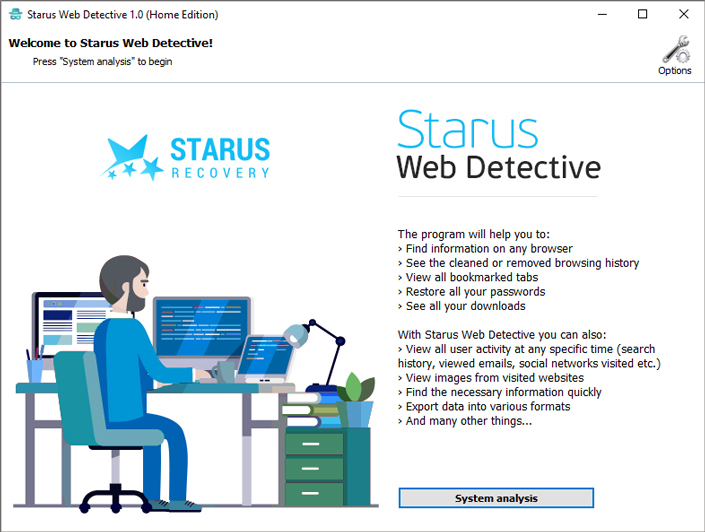 Usage Scenarios
Users routinely clean up their browsing activities, deleting cookies and historical records accumulated over a long period of time. Even then, the hard drive may still retain deleted records for much longer than anticipated. Starus Web Detective helps locate, recover and analyse such retained records on computers, virtual machines and mounted disk images.
Starus Web Detective Features:
Page visits: Track Web browsing activities by accessing the list of Web sites and individual Web pages opened on the user's computer. Starus Web Detective supports all popular Web browsers including Google Chrome, Mozilla Firefox, Opera, Microsoft Edge and IE, Safari, and many other browsers.
Deleted browsing history: Web browsing history is often retained on the hard drive even after a comprehensive clean-up. Starus Web Detective helps access and recover deleted browsing histories even if the user uninstalls the browser or removes their Windows account.
Social networking analysis: Starus Web Detective helps analyze the user's activities in many popular social networks, and provides access to cached authenticated credentials and stored passwords.
Download history: The tool helps analyse files and images the user downloads to their computer including source URLs and the file's destination on the hard drive.
Main Functions
● Sessions
Web browsing occurs in sessions. This section contains information about Web sites visited by the user during each browsing session.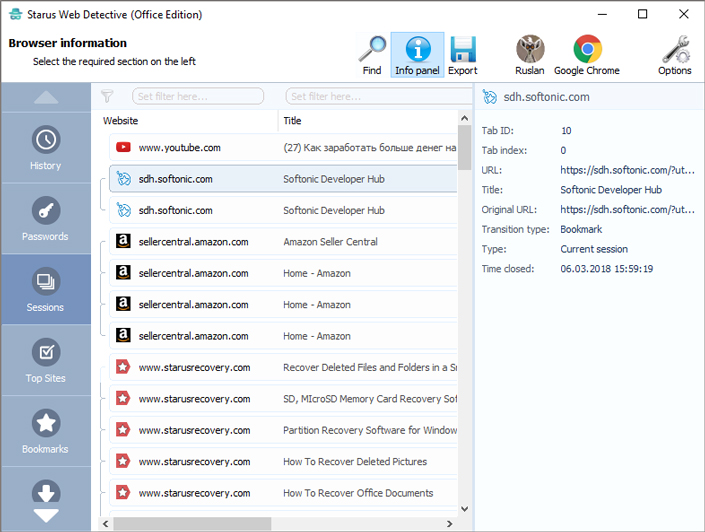 ● History
The History section contains information about Web pages opened by the user, access search requests and page transitions. For your convenience all Web sites are categorized.
In addition to Visits, this category includes Searches detailing search requests made by the user on search engines and Web sites.
Social media allows tracking the user's activities on social network Web sites. Each record is accompanied by the timestamp.
Starus Web Detective locates existing and deleted records by analysing the content of the hard drive via a low-level scan. This in-depth analysis allows accessing the user's online activities even if the browsing history is cleaned up. In addition, in-depth analysis can help access browsing events that occurred under Incognito or In-Private browsing modes.
● Top sites
The Top sites category contains the user's most frequently visited Web sites.
● Passwords
Starus Web Detective can extract passwords and authentication credentials that are cached or stored by all popular Web browsers. These credentials are available via the Passwords tab. For many Web browsers you will be able to access additional information about the use of each passwords such as the number of times the password has been used as well as the last time the password was entered.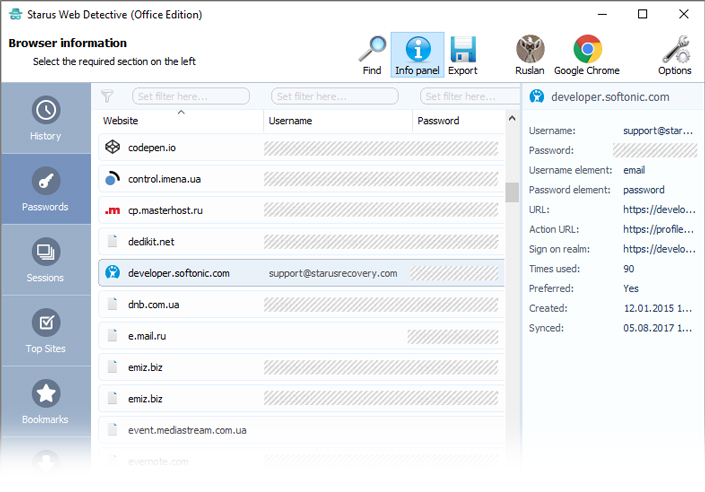 ● Documents
In Images, Files and Downloads you'll be able to track how the user accessed these types of resources.
● Images
This tab contains all images accessed by the user or downloaded to the PC.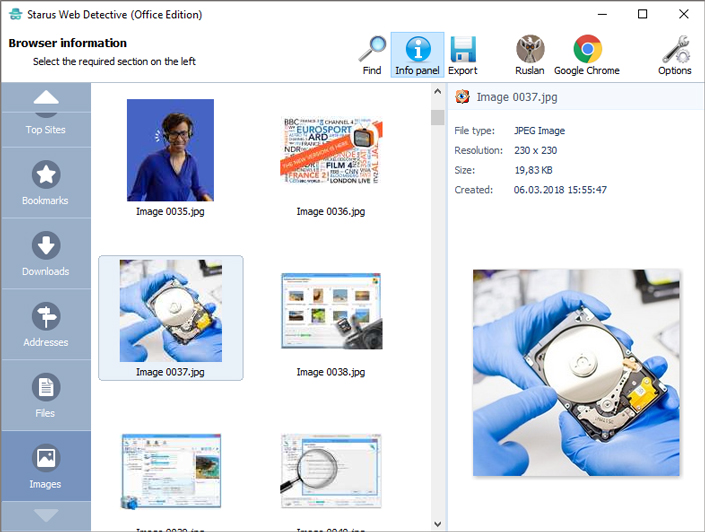 ● Files
This tab has all the files the browser saved on the hard drive. A preview is available for each file. Deleted files can be recovered (make sure to recover deleted files onto a different disk, partition or storage media).
● Exporting and Reporting
Exporting and reporting are an essential part of Starus Web Detective. You can easily export all information collected by the tool, saving the data to an Excel, HTML or PDF format. The included Report Wizard allows specifying the range of dates and types of data to include in a report.
System Requirements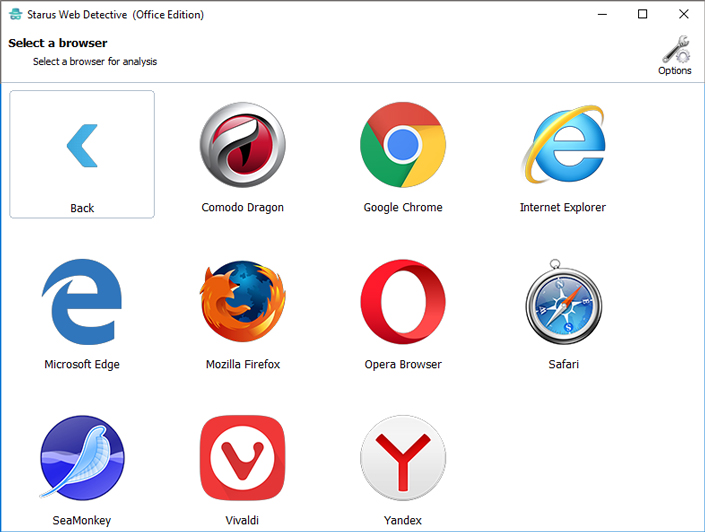 Starus Web Detective fully supports all 32-bit and 64-it versions of Windows from Windows 7 to Windows 10. You may be able to run the product on earlier Windows versions such as Windows XP, Vista, NT, 2003 and 2008 Server.
---
Supported Web browsers: