NTFS Recovery Software
Undelete files and recover data from NTFS volumes with Starus NTFS Recovery! Featuring high-performance data recovery algorithms, the tool can quickly undelete files or restore the entire partition with the help of a fully guided wizard. Step-by-step operation and visual pre-recovery preview make Starus NTFS Recovery easy and convenient to use.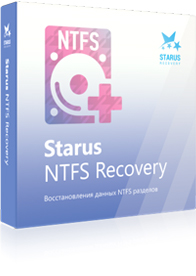 Recover Information from NTFS Partitions
Recover data from NTFS-formatted volumes with Starus NTFS Recovery! Featuring high-performance carving algorithms, Starus NTFS Recovery can reliably undelete individual files or restore all information from terabyte-sized partitions even if your disk has been formatted or repartitioned. Starus NTFS Recovery employs some of the most advanced and innovative data recovery algorithms available on the market up to this day.
Starus NTFS Recovery offers two modes of operation. In Quick Scan mode, the tool can undelete recently deleted files in a matter of seconds. In Comprehensive Analysis mode, Starus NTFS Recovery reads the entire disk volume in order to detect files and folders that no longer appear in the file system. By implementing a low-level signature search algorithm, Starus NTFS Recovery is able to carve files from badly damaged, corrupted and inaccessible disks, restore information from formatted volumes and repartitioned hard drives.
The entire operation of Starus NTFS Recovery is guided by a step by step wizard, allowing anyone to use the tool with great success. The tool offers a fully visual pre-recovery preview, ensuring that anything you can view can be fully recovered.
For physically damaged, unstable and worn out hard drives, Starus NTFS Recovery offers an extra safety mode. In this mode, the tool captures a bit-precise virtual image of the disk in one sequential read operation. By using sequential reading that minimizes the number of magnetic head movements, Starus NTFS Recovery maximizes the chance of successful recovery. After imaging the disk, you will no longer need the original device, and may continue the recovery on the same computer or another PC.
If you have limited free space available to receive files being recovered, Starus NTFS Recovery offers options to burn files onto CD or DVD media, create burnable ISO images or upload onto a remote FTP server.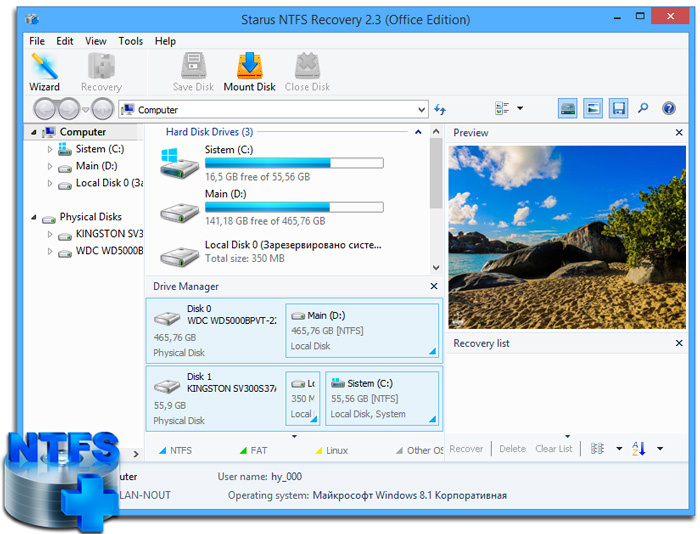 Features
Surefooted file recovery of type NTFS of file system or storage media;
Near-instant recovery of deleted files;
Comprehensive analysis mode returns more recoverable data than competition;
Comprehensive analysis mode locates files by their content, scans entire disk surface;
Fixes corrupted disk system structures;
Completely refurbishes badly damaged partitions NTFS;
Rebuilds corrupted and overwritten file systems from scratch;
Recovers partition tables and MBR records;
Recovers files and folders from damaged, inaccessible, repartitioned disks;
Supports all types of storage media;
Explorer-like user interfaces allows browsing deleted files and folders just like Windows Explorer.
Supported Storage Media
Starus NTFS Recovery supports all types of magnetic and solid-state storage media, including hard drives, USB drives, memory cards, as well as SSD drives or all types of type NTFS of file system. Certain MP3 players and digital cameras are supported directly if connected to a PC with a USB cord.